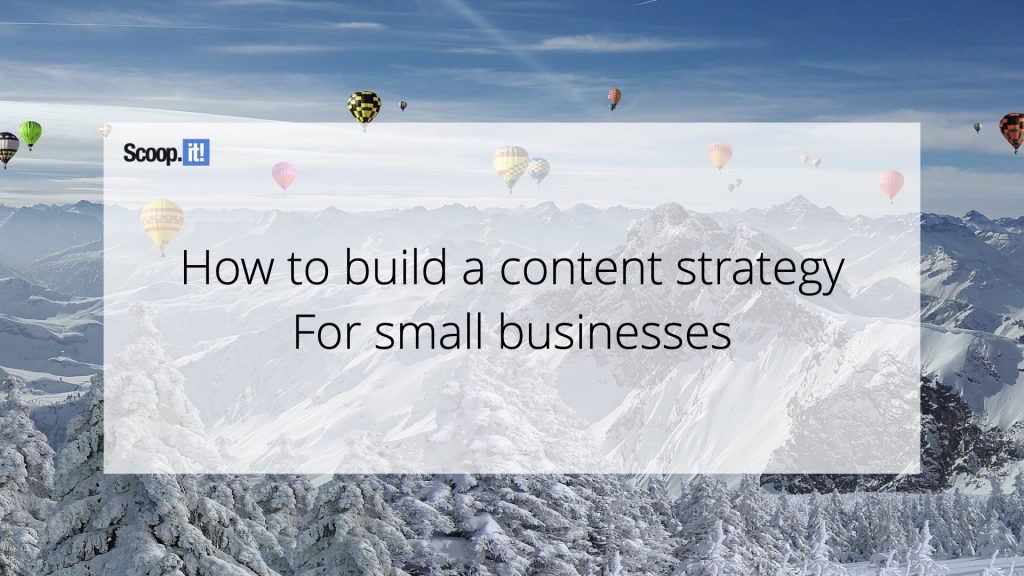 One of the best ways to promote your products and services is with quality content. Almost 70% of SMBs that publish a blog get more leads than their non-blog counterparts. And that's just one statistic. In this article, we talk about building a content strategy for your small business that brings consistent results over time.
What Is a Content Strategy?
A content strategy is a long-term approach that enables you to set audience expectations and select the type of content you will create, promote, and publish. It also helps you apportion resources you'll need to develop content.
Moreover, a content strategy can push business growth by helping you uncover new ideas, explore new market segments, and build relationships.
For example, if you run a hardware store and publish a blog with DIY tips, you may notice that your most popular articles are those that instruct readers on wall mounting TVs. You can use this data and run ads for LCD screens on your blog.
Having a content strategy can simplify your business as it forces you to review your goals, discover your audience, and discover what they're interested in. You can then create content to cater to their needs and promote it where your audience hangs out the most. 
When done correctly, a content strategy can drive qualified leads to your website and boost your brand in the long run.
How to Build an SMB Content Strategy
Content strategy for a small business has three broad objectives.
First, you need to have a vision — a reason to produce the content. You also need to know who the content is for. Second, you will select the format for the content. And third, you need to determine how to promote your content and measure results.
Let's delve into the specifics.
Defining your goals and audience
Start with having a clear idea of who your audience is. This should include everything from their demographics to the kind of vocabulary and voice they respond to.
You will select your audience based on your business goals and market research. But don't overlook past data, even if your previous content marketing efforts have failed. Other factors to consider include competitor analysis and social media analytics.  
Thanks to a plethora of online tools, collecting data is easy and economical. As your business grows and more data pours in, you can use it to fine-tune your marketing strategy and drive better results. 
Analytics aside, you need to keep your ideal customer in mind. For a hardware store, this may be a 50- to 60-year-old male, a contractor, or a DIY enthusiast. 
A real-life example is Cosmopolitan magazine, which considers 18- to 34-year-old women their core target audience. And while the magazine and website have a diverse marketing strategy, they appeal primarily to this audience. 
Deciding on your content type
There are several types of content you can create for your business. 
Until now, we've talked about articles and creating blogs, i.e., text. It's a widespread notion that people don't read as much as they used to, but text content is still relevant, especially if you are doing search engine optimization (SEO). 
Audio content is another format people love. It's less demanding than text as it doesn't require complete focus. People listen to their favorite podcasts on Apple Podcast, Google Podcast, or Stitcher during lunch or while driving or working out. You can also consider starting a podcast for your company. 
Then we have visual content, which includes images and videos. Visual content can stand alone (such as Instagram posts) or can be used to enhance text content (such as infographics in a blog post). Not to mention, images are vital to SEO as well.
Finally, videos are in vogue these days and are perhaps the best performing content type. All major platforms support video content, even LinkedIn. And live streaming is commonplace in online marketing to drive audience engagement.
The type of content you select depends on your marketing goals and your audience. It is best to use a combination of formats. 
Doing competitor research and finding your positioning
You cannot have a comprehensive content strategy without looking at your competition. Check out their website, social media pages, and blog to see what kind of content they share and what works for them. The latter is necessary as observing their results will help you create effective content. 
Of course, competitor research is more than just mimicking your peers. You can also see what doesn't work and come up with something better. 
Picking your content channels
A successful content marketing strategy is one that has a clearly defined audience. Instead of targeting a general audience, it's better to craft a specific message for a specific market segment most likely to buy from you.
Google Analytics is one place to see where most of your traffic and engagement comes from, and you can promote more content through that channel. 
Each platform works well for different audiences and topics, and you can use tools like BuzzSumo to find the most relevant content channels for your business. One of the features BuzzSumo offers is the ability to see which content is performing best and on what channels.
Organizing creation and publication process
Strategy doesn't stop at content creation, for you also need to organize how to publish your content. At the very basic level, this requires an editorial calendar, where you plan out when each piece of content is created, edited, published, and promoted. 
For new content marketers, it is best to create a calendar and stick to it for at least two to three months. 
Experienced marketers, on the other hand, are not too obsessed with their calendars and leave room for flexibility. They are willing to alter the calendar based on feedback and the willingness to try out new ideas.
As you continue publishing content and collecting data, start building a content library. Having a library helps avoid reinventing the wheel every time you need to launch a marketing campaign. 
A content library is more than just a collection of articles and videos you have created. It can also include images, icons, and contract templates. 
Measuring results
The latest analytic tools enable you to measure the results of your strategy within hours of publishing your content. Insights include page views, likes, comments, and shares. Long-term and more in-depth analytics include conversion rates, qualified leads, and closes.
The fancy term here is KPIs, i.e., Key Performance Indicators. KPIs measure how effective your strategy is. You can use Google Analytics, Facebook Page Manager, and tools like Databox to measure KPIs. 
Some marketers still prefer the time-honored spreadsheet, especially for metrics like revenue, subscriptions, or referrals.
If you are promoting content through an email list and tracking results, make sure to clean your email address list for more accurate metrics. 
Great Content Strategy Examples for Inspiration 
Now that you know the ingredients of an effective SMB content strategy, let's look at some of these principles in action. 
Evernote
Along with an impressive product suite featuring apps, hardware, notebooks, and a catchy logo, Evernote also uses a smart content strategy. This primarily comprises a high-traffic blog and large followings on multiple social networking channels.
The Evernote blog caters to a specific niche: productivity. They produce informative and creative content throughout the year and update their top-performing posts. They target this niche because people searching for content on productivity are likely to download the Evernote app.
Evernote's marketing team also stays focused on this niche; that's why you rarely read about the latest cultural fads on their blog. 
They also have a niche audience, which they have discovered by conducting periodic surveys. Their core audience includes professionals like lawyers, doctors, and chefs, typically in their mid-30s to mid-40s.
Evernote publishes most of its content on Facebook, Twitter, and YouTube.
It is a perfect example of a content strategy that aligns with the company's goals. Evernote is trying to nurture leads through blogs, videos, and social media posts in the productivity niche and then offers their readers a solution in the form of their note-taking app. Read more about B2C content strategies here.
Evernote's blog featured on page 1 of Google SERPs when we searched for "how to stay disciplined."
HubSpot
HubSpot is a prime example of a market leader that built its brand through content strategy. They actually coined the term "inbound marketing." Their strategy is streamlined and scalable. 
They attract readers by publishing tons of valuable content for marketers and ultimately convert them to customers of their tools and services.
HubSpot also places CTAs strategically throughout their blog posts.
HubSpot offers freebies at each stage of the marketing funnel, such as e-books, marketing kits, user guides, webinars, and video courses. If you haven't already done so, subscribe to the HubSpot blog, and consider taking their courses on content strategy.
McDonald's
Although not a small business, McDonald's has shown us time and again how content strategy is vital for brand building. 
A few years ago, McDonald's Canada decided to answer all their customer's questions. They ended up answering more than 10,000 questions, building strong relations along the way. This was part of the brand's attempts to become more transparent. 
This campaign teaches us how to use customer service to drive insights, boost engagement, and develop a solid reputation. 
And this is just one example of McDonald's multifaceted content strategy. It also includes artsy Instagram Stories and innovative YouTube content.
The brand is so serious about its content strategy that it spent $300 million acquiring Dynamic Yield Ltd. to leverage AI in its marketing.   
Content Strategy Best Practices from Industry Experts
Before we wrap up this article, here are five content strategy best practices from the pros:
1. Ask the Public
As a small business owner, it is hard to look at your brand critically. That's why you should invite your audience to speak their mind. You can create quizzes or surveys or compile the top comments from a blog article or social media post. You can then use relevant quotes in an article, Facebook ad, or white paper. 
Such content is likely to see high levels of engagement as it provides real-world examples to which your customers can relate.
Here are some examples:
Share a Coke
Coca-Cola's marketing team in Australia launched the 'share a coke' campaign in 2011 through social media and paid ads. Coke printed about 150 most common and popular names on its bottles, asking people to 'share a coke' with their loved ones. The campaign went viral across 80 countries.
Adobe
The designing software company started an Art Maker Series where inventive designers were asked to share their creative artwork and highlight their skills using any of the Adobe products such as Illustrator, Photoshop, etc., through videos. The company then used artwork created by users for recommendations, product/feature promotions, and other expert endorsements. 

Citizens of Humanity
Denim brand Citizens of Humanity launched its #WEAREALLHUMANITY campaign with a social message. When users posted a photo with this hashtag, the brand donated $10 to a relief organization. The campaign helped a social cause but also created a socially responsible image for the brand, and 75% of millennials want to associate with such brands.
2. Don't Restrict to Blogs
Invest in as many content formats as your budget allows. Some content types will build SEO (blogs), others boost engagement (social media posts), while some close the sale (white papers, chat support). 
3. Boost your Posts Occasionally
You need to combine your free, organic publishing with paid marketing. Boost social media content or run pay-per-click ads on Google SERPs. After all, there's no use in developing quality content if no one sees it. Spending as little as $30 per month can help you spread the word about your content. 
4. Create Interactive Content
This is similar to #1. Examples of interactive content include polls, webinars, games, and quizzes to boost engagement. Interactive content is a winner on social media, but content like webinars and explainer videos also perform well on platforms like LinkedIn. 
Beauty brand Clinique's foundation finder is an excellent example of using a survey to drive customers' purchasing decisions. Buyers could choose the right product based on their skin type, preferred coverage, desired finish, and skin care goals.
Interactive content not only promotes engagement but also helps your sales and customer support teams close more deals and interact with customers using personalized data. It also helps build trust.
5. Do a Content Audit
Finally, to create a winning content strategy, you should take stock of what's currently working. If you've gone by without a content plan this year, you may have a ton of low-performing or dead content in your library.
When performing an audit, you should look for the following:
Content that performs the best
Content that underperforms
Best times to publish content
Keywords you're currently ranking for
Content with the worst onsite metrics
Content that causes visitors to leave your site
Once you know what content is underperforming or not performing at all, you can revamp your strategy to create more quality and meaningful content. 
Conclusion
Marketing is a challenge that small businesses must overcome. When the budget is tight, having a good content strategy will simplify your content marketing efforts and provide the best bang for your buck. You should review your strategy at regular intervals by assessing your KPIs and making changes if needed.